Office: (231) 865-4035
Fax: (231) 865-6351
Director of Athletics
Department Location
357 N. Sixth St.
Fruitport, MI 49415
Department Hours
7:00 AM - 3:30 PM
Fruitport Athletics
Sports Can Be a Great Training Ground for Life Lessons.
We know that coaches hold the key to developing student-athletes. We see success as "Developing our student-athletes to reach their full potential as competitors and as people by giving maximum effort every day."
As coaches, we realize the obligation to model the values and commitments that we hold others to.
We Will:

Welcome Challenge
Be both encouraging AND demanding
Find ways to get 1% better
Grow as leaders
Grow others as leaders
Create an atmosphere of trust
We Value:

Discipline
Loyalty
Accountability
Grit
Self-control
Team first attitude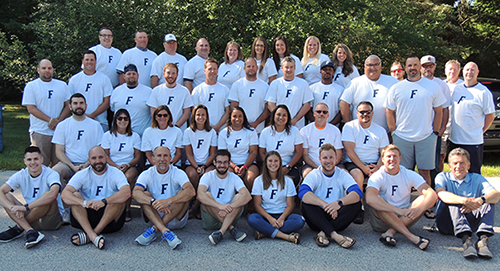 Athletic Documents & Forms
Student Documents & Forms
Parent Documents & Forms
Coach Documents & Forms
Coach Evaluation Process
Collegiate Athletic Information
If you are interested in participating in collegiate athletics, make sure to communicate that desire with your Guidance Counselor and the Athletic Office. There are specific rules and regulations that MUST be following while attending High School.
Good Reads for Parents
Good Reads for Coaches
Athlete Physical Information
Prior to participation or tryouts, all athletes must have a current athletic physical on file. Physicals must be dated after April 15 in order to be valid for the entire following school year.

MHSAA Physical Form
Athlete Concussion Information
Concussion education material can be found at the following website. Please view this information before your child participated in school sports or summer camps.

Concussion Education Materials
The following form must be completed and submitted to the athletic office before a student-athlete who has had a concussion or a suspected concussion may return to the field of play.

Return to Play Form
The MSHAA will now cover doctor visits for concussions or suspected concussions on a supplementary basis. Click the link below to download the form needed policy coverage.

Concussion Insurance Benefits Information
Service fees are $85 per player (High School) regardless of the number of sports played.
At the Middle School, the charge is $25 per sport, with a maximum of $75 per school year. Fees must be paid within one week of the first practice.
Student Athlete Leadership Team
Student Athlete Leadership Team
The SALT team is a small group of student-athletes that voluntarily meet twice per month to develop their personal leadership skills in order to be a positive influence on the fields, courts, and in the hallways of Fruitport School.

SALT Information


SALT Application Form
"Before you are a leader, success is all about growing yourself. When you become a leader, success is all about growing others." ~ Jack Welch
Office: (231) 865-4035
Fax: (231) 865-6351
Director of Athletics
Department Location
357 N. Sixth St.
Fruitport, MI 49415
Department Hours
7:00 AM - 3:30 PM
TODAY'S EVENTS

Boys Varsity Football vs Unity Christian H S (H)

http://fruitportathletics.org/?action=main.team&ID=3686231&seasonid=4754478

Boys Varsity Tennis vs OPEN (A)

Location:

Reeths Puffer H.S.

http://fruitportathletics.org/?action=main.team&ID=3686234&seasonid=4758380

Boys/Girls Varsity Cross Country vs Multiple Opponents (H)

http://fruitportathletics.org/?action=main.team&ID=3686269&seasonid=4749598