Welcome to the friendliest school district in West Michigan,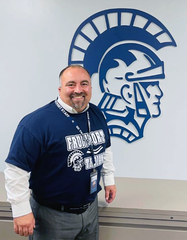 "Where Community Matters!"
At Fruitport Community Schools (FCS) we take pride in our family atmosphere and go above and beyond to help all of our students maximize their potential to be successful in life.
FCS is located just five miles from Lake Michigan and all of the beauty and recreation it has to offer. Within the boundaries of our school district, you will find west Michigan's largest mall along with many popular restaurants and other shopping opportunities. Close proximity to such destinations makes Fruitport an ideal place to raise a family.
Student achievement is the ultimate focus for FCS. Under the leadership of our excellent curriculum director Allison Camp, FCS is securely on the path toward academic excellence. In fact, one of our elementary schools ranked in the top 20% of schools in the state with significant progress occurring in the remainder of our school buildings. In the academic extra-curricular area, our Robotics team won the state championship in 2015, and our Quiz Bowl team recently team finished in the top 12 in Class A.
The community is a very important aspect of our work at FCS. We frequently partner with various community agencies and clubs to enhance both the quality of education and of life for all of our students and their families.
While we pride ourselves on being welcoming, open and inviting, safety and security are also main focuses for FCS. We have invested a great deal into making sure all of our buildings, policies, and procedures are in line with the latest in school safety and security.
Perhaps FCS is most known for its athletic prowess. For example, the Lady Trojans have won the state volleyball title three times since 2005, with football and track perennial favorites to win conference championships. It is not uncommon to see any one of our sports in any given year make a race for a conference championship or travel well into the state tournament. Recent upgrades have been made to all of the district athletic facilities and are among the best in the area.
Finally, we are very proud of our alumni who have gone on in life and accomplished great things. Graduates boast a strong loyalty to FCS and love to brag about how much their time at FCS meant to them and how that time shaped their current lives.
You can see that Fruitport Community Schools is a great place to learn, prosper, and grow. We welcome you to come and visit us and see firsthand the excellence we are so very proud of as potential members of the Fruitport Trojan Nation!
Jason Kennedy
Superintendent