Office: (231) 865-4054
Fax: (231) 865-1466

Director of Food Service
Department Location
3113 E. Pontaluna Rd
Fruitport, MI 49415
Department Hours
7:00 AM - 4:00 PM
Building Menus & Nutritional Information
This Month's Menus

Interactive School Menus & Nutritional Information
The way you access school menus is changing, and we are sure you will love it!
Fruitport Community Schools, in partnership with Chartwells K12, is using Nutrislice to publish the school menus to a new interactive website and a free smartphone app! You can access your menus anywhere, anytime!
NOW YOU CAN ALSO:
SEE more information about menu items, including a photo and description.
FILTER common food allergens like nuts, wheat and dairy.
TRANSLATE your menus into a number of different languages.
ACCESS nutrition information like carb counts and calories with just a few clicks!
PRINT a PDF version of the menus directly from the website, if you prefer.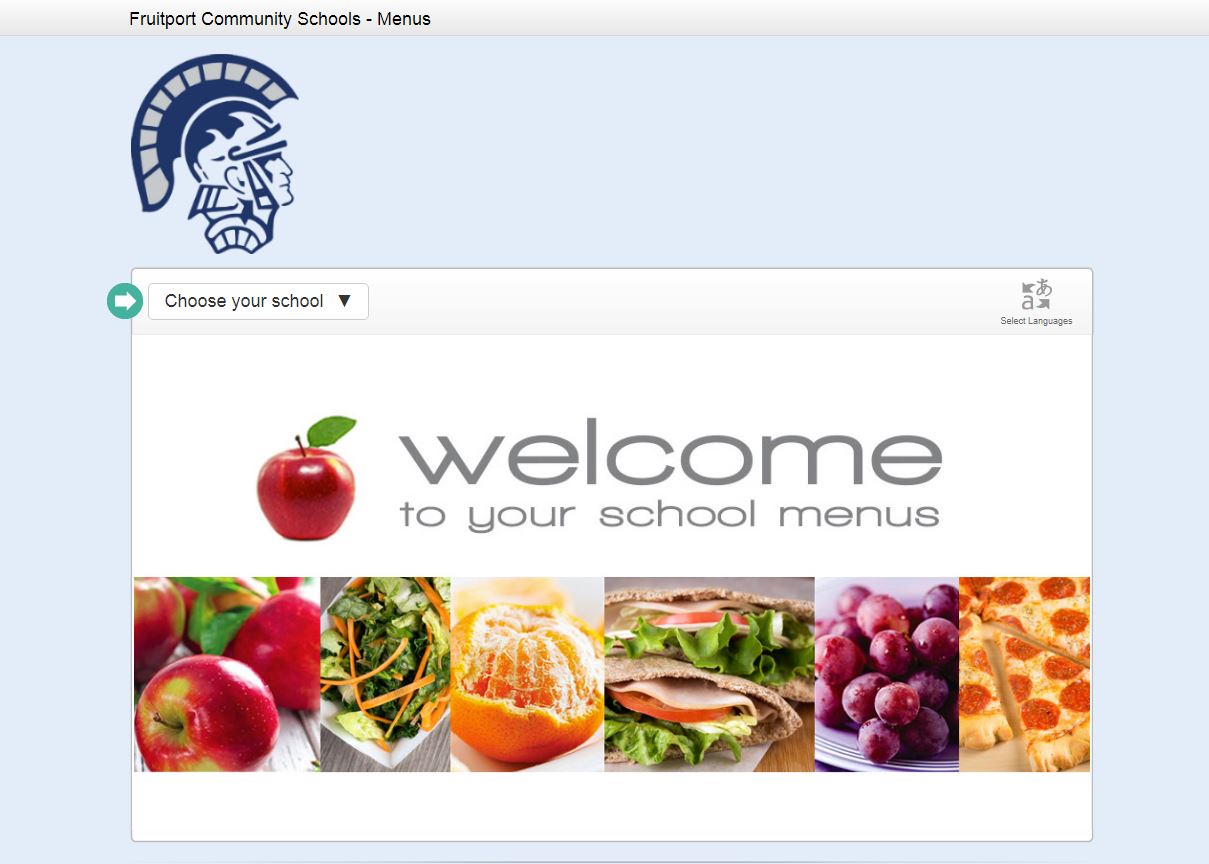 Using the Website:
Select your school
Select the school menu you wish to view
Once within the site, you will see the menu is interactive. If you hover over a food, you will be able to see an image and a description
Using the App:
Select your state, followed by your school district
Select the grade level, school, and then the school menu you wish to view
Once within the menu, you will be defaulted to the current day. You can select a food to find its description.
Food Service
Welcome to the Fruitport Schools Food Service Page!
The Fruitport Food Service Department is dedicated to serving nutritious and healthy food every day to our 3,000 customers. Last year, the food service department prepared, served, and sold over 375,000 meals. If you have comments, suggestions or questions about the program, please contact us, we welcome hearing from you.
---
Free Breakfast!
Fruitport Community Schools is now offering FREE BREAKFAST to all students! Lunches will continue to be charged according to your student's meal status (free, reduced or full pay).
Have you applied for free lunch? Apply Here!!
To apply for free lunch, please request a meal application from your building secretary or apply online (Click HERE). To access your student's Elink account and apply for meal benefits, you will need a current username and password. If you need that information, please email us at foodservice@fruitportschools.net and include your student's full name.
Please let us know if you have any questions!
---
NOW HIRING!
Working in the food service department has its advantages; you work when your kids are in school! You will be able to enjoy holidays, nights and weekends with your family. APPLY TODAY!
Note: online applications accepted only.

Schedule: Monday thru Friday, shifts are anywhere between 9:00 AM to 2:00 PM. Flexible hours!

Requirement: Prior food service experience is a plus, but not necessary. If you have a positive attitude and a love for learning, you may be interested in joining our team.
Apply HERE!
---
Please Consider Donating to Students In Need
The Food Service Department maintains Angel Accounts to help provide families with financial meal assistance during times of need. The Angel Accounts are funded by donations that come from individuals, businesses, and fundraisers and can be added directly to a student's account.
Donations may be sent to the Food Service Department at 3255 East Pontaluna Rd. Fruitport, MI 49415, or dropped off at the office at any school. Please make the check out to the "FCS Food Service Department" and add "Angel Account" to the memo line. Monetary donations are also accepted in a sealed envelope labeled Angel Account.
Donations may also be taken over the phone with a credit card. Please call the food service office at (231) 865-4054 to make a deposit to an Angel Account.
If you have questions about donating to the Angel Account, please contact the Fruitport Schools Food Service office at (231) 865-4054.
Thank you for your help in providing seamless support to our students.
---
Fruitport Community Schools Wellness Policy
Office: (231) 865-4054
Fax: (231) 865-4086
Director of Food Service
Department Location
357 N. 6th Ave
Fruitport, MI 49415
Department Hours
7:00 AM - 4:00 PM
---
Take Home Meal Order
This form is to be used to order your take home meals for students that are on a hybrid or virtual learning schedule.
Form Due Dates: Fridays by 5:00 PM for the following Wednesday pickup.
---